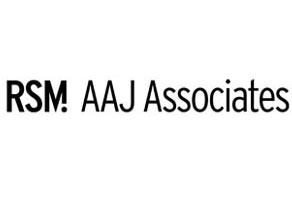 RSM AAJ Associates is an equal opportunity employer www.rsm.aajassociates.com
Global excellence in audit, tax & consulting
What's it like to work in a place where you collaborate h people who will help you unlock your full potential?
It's time to find out
AAJ Associates is an international firm with strong local presence providing full range of audit, tax & consulting services, offices in Jakarta & Surabaya. We are member firm of RSM International, the 6th largest global network of professional ices firms, with 700+ offices in 83 countries and 32,000+ people to serve our clients' needs.
We value creativity & innovation, and demonstrate that by how we reward high performers. Whether you're an experienced professional or )n-to-be graduate- if you're looking for a career that is challenging & inspiring, you'll find the right fit at RSM AAJ Associates. We are ing exceptional individuals to join our team of talented professionals as Junior to Senior Manager in the following lines of service:
Audit & Assurance with opportunity to engage in general audit, special audit, financial statement review and compilation, attestation engagement, financial due diligence, and IFRS related services.
Tax Advisory with opportunity to engage in tax consulting, tax compliance review, and tax and accounting related services.
Transaction Support with opportunity to engage in corporate finance and capital market advisory works.
Risk Advisory with opportunity to engage in advisory and assurance works related to corporate governance, internal audit, internal control, performance and process improvements, as well as information system.
For senior Manager and Manager positions, you must have at least 7 years of relevant experience and a recognized relevant professional certification with proven track record at managerial level. For Assistant Manager position, you must have at least 5 years of relevant experience. For Senior position, you must have at least 2 years of relevant experience. Applicants for Junior position are welcome. Applicants for all position must hold a bachelor degree with minimum GPA of 3.00 from reputable universities, proficient in English oral and writing, excellent interpersonal and communication skills, and proficient in the use of information and technology.
All applications (cover letter, CV & photograph) should be received at career@rsm.aajassociates.com within June 25th 2011 and put the applied position and service line in the email subject. Only short-listed candidates will be notified.
Plaza ABDA 10th floor
JI. Jend.  Sudirman Kav.59, Jakarta, Indonesia
RSM AAJ Associates an equal opportunity employer