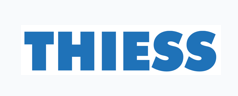 About us
With a global business, we offer diverse and rewarding careers. We are committed to Thiess being a company and a culture where great people can excel and where they are developed and supported to reach their highest potential. Join our team today.
About the role
The Superintendent Plant Operations provides strategic direction and leadership for all Plant Operational activities in all maintenance section at site. Reporting to Manager Plant, you will work collaboratively towards delivering high-quality solutions and results.
About you
In this role you will:
To ensure that the maintenance department goals are achieved, by following the procedures set out in the TGS.
Communication and reporting. Ensure maximum communication levels are maintained between workshop and operations personnel regarding breakdowns safety issues, and prioritizing of equipment repairs.
Ensure that all area supervisors accurately complete daily breakdown reports, supervisors shift report, PCR's for submission the planning and administration before 8am every day. Ensure accurate breakdown hours information is provided
Analysis of component condition and recommendation of parts required. Ensure correct procedures used when troubleshooting breakdowns and failures
Review operator's checklist summary and mechanical inspection sheets, ensure submission to planning department with repair and parts recommendation. Ensure supervisors and mechanic raise recommended parts lists accurately to address all known work, breakdowns, and planned maintenance
Planning and coordination of shut down work in cooperation with planning department. Ensure all repairs are carried out in a cost effective and timely manner
Investigation and reporting of all accident damage to all equipment in the field and associated area, this includes operator abuse
Ensure a safe working environment for all employee by ensure all activities are carry out according to the work procedures in the TGS and the project management plan
Ensure that there is no impact on the environment from the activities that are carried out to operate and repair equipment by ensuring that the procedures in the TGS and Site Management plan are followed
Ensure that all maintenance tasks are carried out in a safe, timely and cost-effective manner.
What skills and experience do you need?
Mechanical Engineer or Ex Apprentice with minimum 15 years' experience in mining equipment maintenance;
Requires a minimum 5 years' experience in similar managerial role as Senior Superintendent Plant Operations;
Understanding the heavy plant business; knowledge in OEM products in Heavy Equipment; handling diagnostic skills in all aspects of mechanical and auto electrical heavy equipment repairs; have ability in resource planning and OHS&E supervision;
Mechanic experience on Thiess Heavy Equipment e.g. Cat, Komatsu, Liebherr, Hitachi; Drills, Pump, Coal Hauling and Lifting Equipment.
Knowledge of welding procedures;
IT Literacy; Excellent communication skills in English both verbal and written;
Strong leadership and interpersonal skills; good in coaching/mentoring and negotiation/mediation; good analytical; conflict resolution; sound decision making skills;
About us
We partner with our clients to deliver excellence in open cut and underground mining in Australia, Asia, Africa and the Americas. For more than 80 years, we've operated in diverse commodities, geologies, environments and cultures. Our team uses that insight to optimise solutions for each project and create lasting value for our clients and the communities we live and work in.
We recognise the value of an inclusive and diverse workplace through our vision of everyone matters always. We're focused on creating an inclusive environment to allow our people to bring their best self to work because they feel safe, included and empowered.
How to apply
This role is an opportunity to take the next step in your career. With our culture of recognition, development, and a stimulating and satisfying work environment, there is no better time to join Thiess.
To apply for this role, please click the Apply