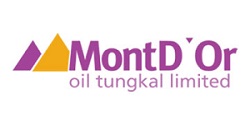 Job Vacancies in the Oil & Gas Industry
MontD'Or Petroleum, the Operator of the producing Mengoepeh, Pematang Lantih, Salawati fields in Indonesia, is currently recruiting dynamic, qualified and self-motivated personnel to be part of its team based in S.E.Asia. The Company has the following vacancy:
PETROPHYSICIST
Role and responsibilities:
Evaluate all available and future log data (open hole, cased hole) to develop an understanding of the formation and reservoir behaviour/characteristics.
Involve in all stage of the field exploration, operation, development and reservoir management.
Contribute and supervise field studies including conventional and special core analysis, log analysis, saturation modelling for input to reservoir models, rock mechanics and formation damage studies.
Prepares logging programs and conduct the interpretation of these logs, generate reservoir summaries, cross sections, saturation equation/height function, selects the pressure points and its interpretation, collection of bottom hole samples.
Execute well log interpretation processes for individual wells, and perform petro physical characterization of the reservoir, and provide petro physical data for geo-cellular models including electro-faces cut-off and reservoir properties.
Analyse and evaluate logs and core data using different types of computerized evaluation packages and calculate Petro-physical data such as porosity, hydrocarbon saturation, permeability, temperature, etc
Review and interpret historical logging data, identify remaining oil zones and formation water behaviours to propose target zones and logging operation programmes for new well drillings or workover.
Liaise with geophysics, geology and reservoir engineering staff to ensure physical corroboration of evaluations and to supplement well data. Evaluate productions logs, monitor and interpret fluids' movements in the reservoir in liaison with Reservoir Engineers.
Maintain record of raw and computerized petro physic logs for petro physical well data base (digitized logs and core data).
Requirements:
Minimum 10 years of experience in Oil and Gas industry as Petro physicist/Log Analyst.
Experience and hands on with Petro physical software (Tech log, Geo log, IP)
Experience in clastic and carbonate reservoir.
Experience or involve in low-resistivity pay evaluation project.
Experience in Sumatra oil/gas fields with specific petro physical equation and evaluation is a plus.
Knowledge in rock physics.
Knowledge in reservoir modelling.
Employment type : CONTRACT
If you are interested in working in a challenging environment and have the key skills to fill one of these vacancies please email your CV to hr@montdor.co.id
Please put the Job Title you are applying for in the subject field of the email.