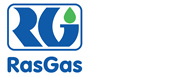 Qatar Is a country transformed: In little more than a decade it has become the world's largest supplier of liquefied natural gas (LNG) and a world leader in gas-to-liquids production. It has one of the fastest growing economies in the world. Qatar occupies a peninsula that extends 160 km north into the Arabian Gulf, its desert interior contrasts dramatically with its shimmering coastline, the modern architecture of Doha, the metropolitan capital and the complex geometry of its oil and natural gas processing plants. Of the 1.7 million inhabitants, 45 percent live in Doha.
RasGas Company Limited (RasGas) is one of the world's premier integrated LNG enterprises Since its creation 1993, RasGas has developed world-class facilities for the extraction, storage, processing and export of LNG, and has entered into long-term agreement to supply LNG to customers in Korea, India, Italy, Spain, Belgium, Taiwan and the Americas. RasGas has seven LNG trains in operation, with a total production capacity of approximately 37 million tons of LNG per year.
Why RasGas? A competitive compensation and benefits: package along with career development and corporate growth prospects, an emphasis on a healthy balance between work and life, and multicultural and safety-oriented environment are all part of a career at RasGas.
PANEL OPERATOR
Candidates should have a minimum of secondary education; engineering diploma is preferred, with at least 10 years experience as a DCS Panel Operator in a Utility Plant and/or Gas Processing Facility with preference for LNG liquefaction knowledge. In addition, Candidate must have meet the following competency requirements:
high aptitude with safety management systems; high level of competency in relationship and team building including communicative skills between peers in the English language; transparency in reporting of production process problems, sharing of knowledge and lessons learned; high focus on process operations optimization and efficiencies including minimizing all flaring; high focus In work management processes including permit to work, equipment isolations, temporary control system defeats, etc.
PROCESS OPERATORS
Applicants should have a minimum of Secondary education with at least 6 years of experience in LNG, LPG, Sour Gas Processing, Sulphur Recovery, Refinery or a similar process environment together with a mechanical aptitude and basic knowledge of process instrumentation and DCS Operations.
UTILITY OPERATORS
Applicants should have a minimum of Secondary education with at least 6 years of experience in operating and monitoring the following plants and equipments: Fuel Gas/Sour Gas system, cooling water pumps and exchangers. desalination plant, potable water units, dematerializing units and softeners, nitrogen operators and crjo,9enic equipments, Air compressors and dryers, Flare system and sour/wet dry fare knock out drums, DCS, PLC, Foxboro, Etalba and Fire gas system, Permit to work system, Emergency response.
How to apply:
Those interested in being considered for these exciting opportunities, please visit our website www.gunamandiri.com page vacancies
PT Gunamandiri Paripurna
Jl. Kapten Tendean No. 24, Mampang Prapatan, Jakarta Selatan 12720
Telp. 021-7191060 (Hunting) Fax. 021-7191017