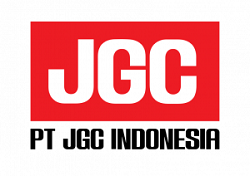 PT JGC INDONESIA
We are a leading Engineering, Procurement and Construction (EPC) Company in Oil & Gas Industry and have been operating in Indonesia for more 30 years. We invite a qualified and experienced professional who can be team work with proven competencies in the whole ranges of development and improvement initiatives to fill the following positions:
Sr. Project Engineer /Project Manager (SPE-Petro)
Age: Minimum 35.
Education: S-1 degree.
Having minimum experience 12 years as a Project Manager, an Engineering Manager including Project Engineer of related EPC Oil and Gas project and Petrochemical or other Process plants.
Able to be a "Leader" to direct and manage a project team.
Able to demonstrate leadership, ownership of works and integrity.
Able to create and establish a project execution plan including strategy and policy.
Able to create and establish a project starter plan such as kick off meeting, organization, man-power plan, office facilities and budget plan, IT & permit requirement.
Having the wide range of understanding on engineering key documents i.e. Plot Plan, PFD, PID, General Specification, International Code and Standard, HAZOP, etc.
Having high awareness of Healthy, Safety and Environment (HSE).
Familiar with local regulation related to industrial and oil & gas, such as; Master List, AMDAL, SNI, Tax, etc.
Having high awareness of Contract/Agreement content including legal implication.
GENERAL QUALIFICATION:
Strong interpersonal skills and experienced organization.
Preferable fluent in English (writing and speaking).
Computer literate (MS office, MS Word, Ms Excel, Ms Project and related software).
Familiar with regulation, code and standard in Oil & gas industry.
Self – starting and motivated as well as able to work in demanding area.
Team building mind set.
Interested in this challenge, please APPLY on line:
Click : recruitment@jgc-indonesia.com or
Write the position code on the top-left corner of envelope to:
PT. JGC Indonesia
Ged JGC, Jl. Mampang Prapatan Raya Kav. 66, Jakarta 12790
• ALL APPLICANTS WILL BE TREATED IN CONFIDENTIAL
• ONLY SHORT-LISTED CANDIDATES WILL BE INVITED TO JOIN OUR RECRUITMENT PROGRAM
• ALL APPLICATIONS SHOULD MENTION THE RELATED DISCIPLINE CODE