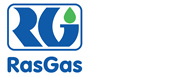 Qatar is a country transformed: In little more than a decade it has become the world largest supplier of liquefied natural gas (LNG) and a world leader in gas-to-liquids production. It has one of the fastest growing economies in the world. Qatar occupies a peninsula that extends 160km north into the Arabian Gulf. Its desert interior contrasts dramatically with its shimmering coastline, the modern architecture of Doha, the metropolitan capital and the complex geometry of its oil and natural gas processing plants. Of the 1.7 million inhabitants, 45 percent live in Doha.
RasGas Company Limited (RasGas) is one of the world premier integrated LNG enterprises. Since its creation in 1993, RasGas has developed world-class facilities for the extraction, storage, processing and export of LNG, and has entered into long-term agreements to supply LNG to customers in Korea, India, Italy, Spain, Belgium, Taiwan and the Americas. RasGas has seven LNG trains in operation, with a total production capacity of approximately 37 million tonnes of LNG per year.
A competitive compensation and benefits package along with career development and corporate growth prospects, an emphasis on a healthy balance between work and life, and a multicultural and safety-oriented environment are all part of a career at RasGas.
WE ARE PLEASED TO INVITE APPLICATIONS FOR THE FOLLOWING CAREER TRANSFORMING OPPORTUNITIES
These roles are offered on Resident Assignment in Qatar, on long term (indefinite term contract) employment opportunity with attractive tax free salaries and benefits including annual bonuses, free housing accommodation, medical and dental care for employee and immediate family members resident in Qatar, educational assistance for up to 4 school age children, annual leave ticket allowance for self and family, end of service benefits.
Maintenance Electrical Technician
Completed secondary school plus electrical based apprenticeship training or Vocational training (HNC, HND or equivalent). Minimum of 5 (five) years experience in electrical maintenance services on a diversified oil and gas-processing plant. Computer literate with knowledge of SAP and commonly used business softwarels.
Electrical Specialist (Maintenance)
The incumbent provides technical support to the RasGas Maintenance department in relation to all Electrical aspects of new plant design, commissioning, operability and maintainability.
After the new plant has been handed over, the incumbent will lead or participate in all electrical related activities to support pre-commissioning and start-up activities. As such, this person must have extensive experience in starting up new electrical equipment and fine-tuning them at site.
After commissioning and start-up, the incumbent will provide all support to operate and maintain the new plant until the facilities are finally handed over to Operations. This includes covering preventative, predictive and breakdown maintenance relating to the electrical discipline.
The preferred candidate must have over ten years of relevant experience in the electrical field and must be familiar with all types of transformers, VFD systems, motors and controls and diagnostics associated with their components and systems.
NOTE
We are looking for candidates with Oil and Gas, LNG, Petrochemicals, Refinery experience ONLY.
Suitable candidates should forward/submit their CVs as MS WORD format document through email with the detailed job/work experiences, to the following address:
www.gunamandiri.com page vacancies
To know more about the job details, please visit our website:
www.gunamandiri.com