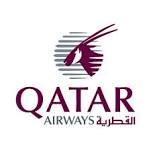 Reach for the stars.
Join one of the most awarded airlines in the sky.
More than an opportunity to be part of an award-winning team, this an opportunity to follow your dreams, explore the world, expand your horizons and learn about new cultures. Begin your journey towards excellent. Become a member of our Cabin Crew and fly with Qatar Airways to over 100 destinations worldwide.
Qatar Airways Recruitment: Cabin Crew
To be part of this winning team, you need to meet the following requirements;
Minimum age of 21 years
Minimum arm reach of 212 cm of tip toes
Minimum high school education with fluency in written and spoken English required.
Take advantage of this exciting opportunity please apply online at
http://careers.qatarairways.com and meet our recruitment team.
Jakarta – Male & Female Cabin
Venue: GRAN MELIA JAKARTA, Jalan H.R. Rasuna Said Kav X-0, Kuningan Jakarta 12950
Date: 03rd November 2013
Time: 0900 – 1200 hours only
Please bring your CV in English personally along with full length and passport size photograph. Shortlisted candidates will be required to attend further processes over the next day.
The above position will be based in Doha, State of Qatar.
For further information, please visit www.qatarairways.com
World's 5 star airline